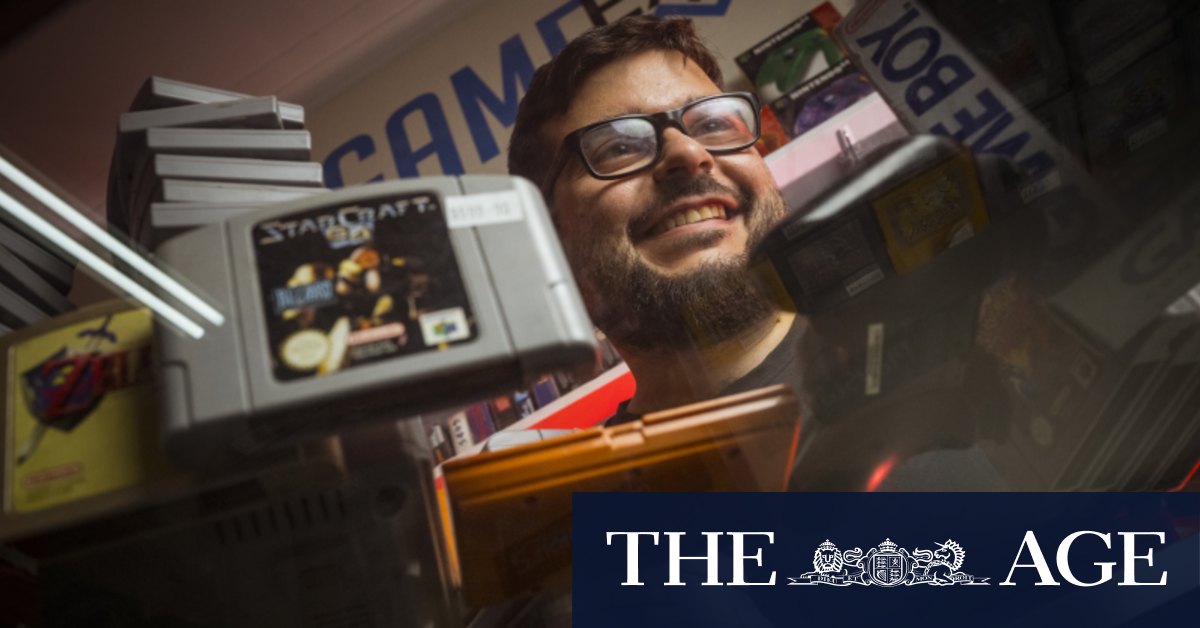 By Tim Biggs January 29, 2022 — 5.00am Normal text size Larger text size Very large text size Advertisement After 30 years on the market Nintendo's Game Boy is again hot property, fetching booming prices among nostalgic gamers and speculative investors.And it's not just cartridges for Nintendo's old handheld that are selling out; retro games in general seem set for a vinyl revival-style boom.
The Game Boy was released in 1989 and sold about 120 million units to kids and adults around the world.And while the primitive brick-shaped device has long since been superseded in technological terms, it and its games are more popular today than they've been in a long time.
eBay has more than 230,000 listings for old games in Australia alone, running the gamut from less than a dollar for random early 2000s titles to more than $20,000 for sealed and graded classics.And Game Boy is a good example of what's happening generally; the rising popularity and ageing audience for games is spurring interest in retro titles for play and nostalgic collections, while a new market for speculative investors is driving prices for certain cartridges sky high.
Sal Temssah, who runs a retro game store, says investors are increasingly joining nostalgic fans in snapping up classics.Credit: Chris Hopkins
An investor who bought a boxed copy of Pokemon Crystal for a few hundred dollars a couple of years ago may be able to offload it for $1500 today, for example, while even relatively common but popular Game Boy games like those in the Metroid or Legend of Zelda series typically go for $200 or more.
In 2020 a sealed copy of Pokemon Red was sold by Heritage Auctions for $115,000, despite the game frequently selling loose (without its box) for less than $200 and complete for around $1000.It's a similar story for other game systems too; Heritage sold a sealed Super Mario Bros 3 for $210,000 and a sealed Super Mario 64 for an astonishing $2.2 million, despite both these games being common.
You can get a loose Mario 64 on ebay for $40 or less.
Sal Temssah, 29, who owns and operates retail store The Game Experts in the Melbourne suburb of Reservoir, says that in his 10 years of collecting, prices have always gone steadily up.But the market has appreciated quickly in the last few years, and he expects increased discussion of old-school games online mixed with investor interest may soon lead to a bigger jump in prices.
The Analogue Pocket, a new device that plays original Game Boy cartridges.
Credit: Tim Biggs
"People are buying up really mint stuff.Retro games in general haven't experienced the kind of massive hype that Pokemon cards did in 2020, but as the market gets more and more exposure I think we likely will get something like that," he said.
"Honestly all it takes is for a Youtuber to get onto it.
That's literally what happened with Pokemon."
Advertisement Loading Among the most expensive collectible games he currently has in stock, Temssah points to a complete Kirby 64 at $2500, and Fatal Fury 3 for the exceptionally rare Neo Geo AES system at $1800.An AES was recently sold in the store for $1200.
"Most titles are still affordable, but there's always going to be that rare elusive stuff.And it's good to see stuff like that having value, and people appreciating it," he says, adding that high-profile sales only grew the market and kept it healthy, as seen with the recent Pokemon card craze.
The market for people buying old games just to play them continues to grow as well, often driven by nostalgia.Research published by the Interactive Games and Entertainment Association indicates more than two-thirds of Australians now play games, with 78 per cent of those being adults.
Temssah says each generation has their favourite systems and games, with the Nintendo Gamecube — released in 2002 — now more popular at The Game Experts than 1996's Nintendo 64 for the first time.His youngest customers even consider the Wii — released in 2012 — to be retro.
And while there are many avenues to play these games — through official re-releases like digital collections or mini-consoles, or through legally grey software emulation — for folks looking to recapture their childhood or share their memories with their own kids, you can't beat the real thing.
"Having that item from your childhood, being able to fire it up, look at it.And just remember all the happy times that came with it, that really is a main driving factor for people," Temssah says.
So, are old video games the next vinyl?
If they are, they're currently where vinyl was pre-2007, where the market is almost wholly old stock and you need a very old machine or very expensive new machine to play them.
American company Analogue released a "reference quality" new Game Boy system last month that plays the old cartridges in a high fidelity recreation of the original visuals.But it costs more than $400 delivered and is back-ordered through to 2023.
'Honestly all it takes is for a Youtuber to get onto it.That's literally what happened with Pokemon.'
Sal Temassah, owner of The Game Experts And while interest in new products related to old games is on the rise — from video scalers that make old systems look good on new TVs, to devices that let you replace ageing disc drives with modern storage — it seems unlikely you'll ever be able to walk into JB Hi-Fi and grab a new pressing of an old game, like you can with vinyl.
Not only are some old formats like cartridges prohibitively expensive to produce, but decades of corporate acquisitions, rights deals and company closures mean many old games are unable to be legally re-released.If there weren't enough of them originally produced to satisfy current demand, their price will likely only increase.
Get news and reviews on technology, gadgets and gaming in our Technology newsletter every Friday.
Sign up here..