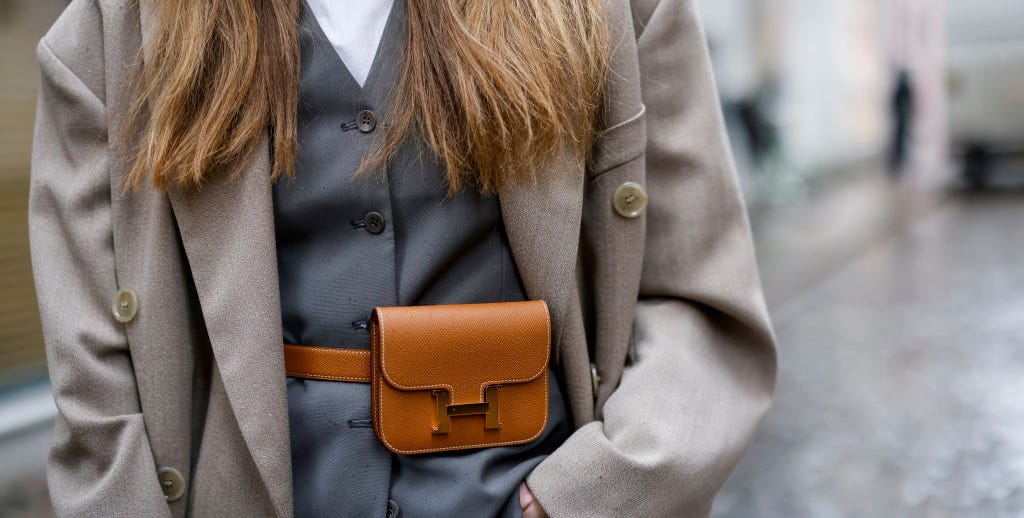 Very few trends have made a comeback quite like the fanny pack.For decades, the belted accessory was written off as a fashion faux pas, only to redeem itself as a must-have in every well-dressed woman's closet .Today, the fanny pack has evolved from a convenient nylon knapsack to a trendy staple .With all the designer waist bags currently on the market, it's evident they aren't going anywhere anytime soon.When it comes to all the ways one can style a fanny pack in present day, it's worth getting a bit creative.If you're not sure where to start, consider which iteration of the bum bag will work hardest in your closet.Those looking to carry theirs on a daily basis may opt for Prada's elevated take on the classic nylon version , while shoppers searching for something with a bit more range in terms of versatility would prefer Jil Sander's slouchy pouch pack .
At the other end of the spectrum are those that are modeled after utility belts from the likes of Fendi and Brooklyn-based Ashya Co., complete with multiple compartments for sizable essentials.
Of course, if you want to switch it up entirely, fall in line with the industry's current affinity for Y2K fashion and invest in a chain belt bag, from the likes of vintage Chanel or Saint Laurent.
The point is, you have options.
Fanny packs are, by nature, laid-back.But they don't have to be reserved for casual settings.Leather satchel styles paired with blazers and jackets are great ways to embrace the trend for more formal occasions.Sling one across your favorite slipdress for night outings when clutches or shoulder bags could be cumbersome.
Forget everything you thought you knew about fanny packs and continue ahead for 11 fresh new ways to style them for 2022—plus key market selects that you need to re-create each look.
The Utility Belt
Edward Berthelot Getty Images Fanny packs are practical by nature.But taking it a step further are the surprisingly spacious iterations designed with utility pockets.Designers like Jacquemus and Fendi are just a few of the names putting their spin on the compartmental silhouette, which is equipped for all your daily essentials.Try cinching yours around a boyfriend blazer to temper the oversized fit.
Anjuna Utility Belt Bag
Ashya Co.$695 AT SHOPBOP Keep your banking essentials easily accessible with the Anjuna waist bag and belt hybrid.
The Runway Favorite
Estrop Getty Images Everyone is talking about Glenn Martens's new era at Diesel, with good reason.Revered for his work at Y/Project, the designer is bringing the cool factor back to the Italian brand.
The runway gave way to a range of moto-inspired fanny packs embossed with Diesel's signature D logo.Follow this model's lead and dress it down with denim and a T-shirt.
Embossed-Logo Belt Bag
Diesel $135 AT FARFETCH Embrace the season's impending motorsport trend with Diesel's pastel orange belt bag.
The Sporty Staple
Melodie Jeng Getty Images Those who prefer a style more suited for the everyday should consider opting for a water-wicking option.
Apart from withstanding unexpected weather conditions, you won't have to worry about the natural wear and tear that comes with wearing a bag every day.The best part? Though its sporty by nature, it can just as easily be dressed up with a leather trench and slacks for a polished off-duty look.
Logo-Plaque Belt Bag
Prada $1,850 AT FARFETCH Nothing says everyday realness like Prada's nylon collection.
The Barely-There Belt
Claudio Lavenia Getty Images When one thinks of a fanny pack, a well-sized pouch pocket likely comes to mind.But in 2022, waist bags come in a range of sizes and silhouettes—including the barely-there skinny belt seen throughout fashion month.Fit with a single envelope compartment to hold smaller banking essentials, it's great for days that require light travel.Loop it through your favorite high-waisted slacks for a cinched look.
Kelly Pocket Quadrige 18 Belt
Hermès $1,550 AT HERMES Fans of the iconic Kelly bag will love the classic feel of the brand's Pocket Quadrige belt just as much.
The Tried-and-True Classic
Edward Berthelot Getty Images Quintessential fanny pack designs include sizable compartments and adjustable waist belts that allow the retro accessory to sit comfortably above your hips.
Gucci's archival 1947 bag is the epitome of a tried-and-true classic design.Instantly recognized by the double- G print and heritage details, it's defined by the harness-like fastening, which aligns with the house's equestrian aesthetic.When it comes to styling, keep the rest to a minimum and let the splashy style speak for itself.
Bamboo 1947 Mini Belt Bag
Gucci $2,550 AT GUCCI From the logo print, striped webbing, and bamboo details, Gucci's mini 1947 belt bag looks like it came straight from the brand's archives.
The Perfect Pop of Color
Streetstyleshooters Getty Images If you're looking to add an emerging designer to your collection of handbags, Danish brand Gestuz is a great place to start.
Positioned as attainable luxury for the modern woman, the brand churned out a selection of quilted pouches for spring.What sets its take on the fanny pack apart from the rest are the adjustable ties meant to be wrapped around the waist multiple times.Opt for the style in bright pink to bring a pop of color to your ensemble.
SunneyGZ Bag
Gestuz €139 AT GESTUZ.COM Its shocking pink hue pairs just as well with a coordinated color story as it does all black.
The Modern Coin Purse
Edward Berthelot Getty Images With chain belts circa Y2K on the rise, it was only a matter of time before waist bags with similar features became just as popular.Enter: the modern coin purse.Traditional leather pouch pockets are strung on delicate chain straps, giving the timeless design a hands-free update for the new season.Invest in any one of the styles from Saint Laurent or Dior.
Vinyle Baby Belt Bag
Saint Laurent $1,100 AT YSL It works just as well with denim and a graphic tee as it does cinched around a collared blouse and blazer combo.
The Corset Belt (Bag)
Raimonda Kulikauskiene Getty Images One quick and easy way to elevate an outfit is the addition of a wide leather belt.What's even better is if said accessory is practical for your day-to-day, and Dior's corset-style fanny pack fits the bill.
Defined by the front-flap design inspired by the storied maison's iconic Saddle Bag, it doubles as both an outfit addition and a purse, making it worth the investment.Translation: It will work hard in your arsenal.
Saddle Belt Bag
Dior $1,350 AT DIOR The saddle-inspired design makes this an instant classic in any wardrobe.
The Waisted Satchel
Streetstyleshooters Getty Images Master the art of layering by opting for a satchel-style waist bag for the new season.Whether you're cinching it around a tailored vest and T-shirt à la influencer Annabel Rosendahl or a light overcoat for a posh finish, it's a versatile alternative to cross-body bags.Opt for one in a classic color to ensure it goes with just about anything in your closet.
Leather Belt Bag
Tod's $1,475 AT MYTHERESA This satchel and belt bag hybrid transcends seasons and trends with ease.
The Explorer Pack
Daniel Zuchnik Getty Images Embrace the current hobo silhouette and fanny pack trends in one structureless waist bag for the spring season.Similar to more traditional styles, its slouchy design is reminiscent of the spacious versions from the '90s.
There are several variations available now, made from a range of materials like leather or canvas.You're bound to find one that aligns with your lifestyle.
Medium Leather Belt Bag
Jil Sander $1,890 AT MYTHERESA Leave it to Jil Sander to design a soft leather belt bag that's as chic as it is functional.
The Croissant Bag
Streetstyleshooters Getty Images Pastry-shaped bags first entered the market a few years ago in the form of a pouch clutch and have since evolved into cross-body bags and other hands-free alternatives.Case in point: the croissant-shaped fanny pack, which can also be slung across your shoulder for a bit of versatility.
Khaki Small Croissant Bag
Lemaire $735 AT SSENSE The croissant bag trend persists in the form of a hands-free option from Lemaire.
The Edit: Fashion 19 Plus-Size Clothing Brands to Have on Your Radar These '90s-Inspired Shoe Trends Are Worth Trying Michael Kors Launched a Sporty-Chic Kids Line Relaxed Blazers Are Pure Business Casual 31 Straw Bags for Instant Je Ne Sais Quoi French Lingerie Brand Etam Is Now Available Here The Best Wedding Guest Dresses Are On-Sale at Saks Baggy Jeans Are Sticking Around Moda Operandi + Rebag Join Forces for an Epic Sale 21 Leather Tote Bags We Love.