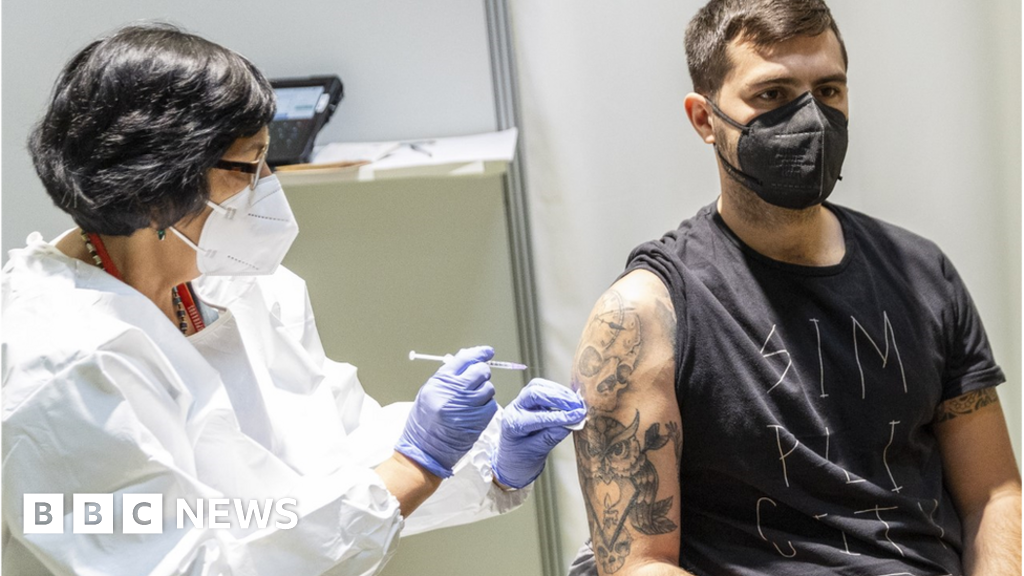 Whatever happened to the Novavax Covid vaccine? By Jim Reed
Health reporter
Published
1 day ago
Related Topics Coronavirus pandemic Image source, Getty Images Image caption, A first dose of the Novavax vaccine being given in Berlin, Germany on 28 February, 2022 In February, the UK medicines regulator approved the first Covid vaccine based on an older, more established technology.Its developer, Novavax, has pitched it as an alternative for people reluctant to take newer mRNA-based jabs.
But while it is now available in much of Europe, Novavax is still not cleared for use in the UK.
"It's been so frustrating – and it's not just me," says a woman in her 40s, who did not want to be named.
"There are other people out there who are not anti-vax or anything like that, but are just hesitant to take the new kind of mRNA vaccines."
She caught Covid last year and spent five nights in hospital on oxygen.Last month she travelled from the UK to a vaccine clinic in France to have the Novavax jab.
"I had to blag it a bit," she says."But the language barrier actually helped because I just looked confused."
She had wanted a vaccine previously, but was unsure about the Pfizer and Moderna jabs which have been rolled out in their tens of millions across the UK.Both have been through formal clinical trials and found to be safe and effective by medicines regulators, while real-world monitoring over the past year suggests serious side effects are extremely rare.
But they are based on a newer type of technology which delivers genetic code, known as messenger RNA (mRNA), into the bodies' cells – instructing them to produce copies of the distinctive spike protein found on the surface of the SARS-CoV-2 virus.
The Novavax vaccine was one of the first on the market to work in a more traditional way – the spike protein is grown outside the body in a laboratory and then injected, alongside a separate ingredient which boosts the immune response called an adjuvant.
"Protein-based vaccines like this have quite a long history – from hepatitis to meningococcal B, to HPV," says Novavax's chief medical officer Filip Dubovsky.
"I think some people are reassured by the decades of safety profiles which are based on this technology."
Another "more traditional" vaccine – produced by the French company Valneva – has just been approved by the UK medicines regulator , although the UK government currently has no doses of that jab on order.
After months of promises, and a series of delays, the Novavax jab was finally approved for use in adults by the European Medicines Agency (EMA) in late December 2021, followed by the British equivalent, the MHRA, on 3 February 2022.
In countries such as Germany, France and the Netherlands, it was quickly recommended for use – as an alternative to the mRNA vaccines, for people who may have had an allergic reaction to them in the past, or those who are still unvaccinated.
But while more than 150,000 doses have now been administered in other parts of Europe, Novavax has still not been recommended by the Joint Committee on Vaccination and Immunisation (JCVI), who advise ministers in the UK.
The JCVI's chair of Covid-19, Professor Wei Shen Lim, says only that the vaccine's potential use remains "under consideration" and full advice will be published in "due course".
One hurdle to overcome is that the UK vaccine programme does not currently allow someone to choose which type of jab they are given.In some other European countries, individuals can call a dedicated phone line to request the Novavax product.
All four vaccines used so far in the UK have gone through safety checks as part of the clinical trial and approval process.
Most side effects – like a sore arm or headache – are mild, with the risk of a severe reaction extremely low.
Covid vaccine safety – What we know How many people have had boosters so far? Covid vaccines: How fast is worldwide progress? More than 92% of over-12s in the UK have already received at least one of those Covid jabs – but that still leaves around five million people unvaccinated.
Every fortnight, a team from Imperial College London has logged the reasons for vaccine hesitancy.The sample size of each survey is small, at around 70 people, as they are investigating a hard-to-reach minority, but the results are still thought to be representative.
The most common reason for remaining unvaccinated is concern about side effects, followed by worries the jabs have not been tested sufficiently.
Six per cent also said it was because the specific vaccine they wanted was not yet available in the UK.
"I think [the Novavax vaccine] could make a difference," says Dr Peter English, a retired consultant in communicable disease control and former editor of the journal Vaccines in Practice.
"When you think about people in intensive care and the pressure on the NHS, it is the unvaccinated who are making up a disproportionate number of those in hospital with Covid.Even lifting it [vaccination rates] by a few per cent would be worth it."
Image source, Getty Images Image caption, People wait in separate queues to receive the Novavax and Pfizer vaccines in Berlin, Germany on 28 February 2022 Kenneth, from Bristol, says he has a health condition which makes him cautious about anything that interacts with his immune system; he has been waiting for an alternative to the two main mRNA vaccines.
"I'm making a personal choice based on my own research and my own body," he says.
He stresses that he is not anti-vaccination.He adds he is still being as careful around other people as he was at the height of lockdown.
"Every single one of our neighbours in the EU – Ireland, France, Belgium, the Netherlands – they all have access to Novavax.The UK is an island in the middle that doesn't."
"By now, someone in Germany who got their first Novavax vaccine at the end of February could have had their full primary series and be getting on with their life – whereas I'm still waiting around in a sort-of personal lockdown, so that is really frustrating."
Both the Pfizer and Moderna jabs have been tested on a cross-section of the population, including people with a variety of health conditions.
Medicine regulators also continue to collect data, so vaccine safety can be monitored and any possible adverse reactions can be investigated.
Domestic production
The wait to make the Novavax jab available comes after the UK played a significant part in its development: government-funding helped support clinical trials and 15,000 British volunteers participated in the testing.
In January 2021, an order for 60 million doses was placed by UK ministers, with a deal agreed for it to be manufactured at a Fujifilm plant in Billingham, Teesside.
At the time, Novavax said production should be up and running by April 2021.
But when the vaccine was finally given medical approval in the UK in February 2022, it was on the basis that initial doses would come, not from Teesside, but from the Serum Institute in India.
Image source, DHSC handout Image caption, Health Secretary Sajid Javid toured the Fujifilm site in Teesside in February Health Secretary Sajid Javid recently toured the factory in Billingham, which is in the middle of a £400m expansion, though it is still unclear if – and when – Novavax jabs made here could make their way into the arms of UK citizens.
Novavax itself says it is continuing to work with Fujifilm and plans to update its submission to the UK medicines regulator so that doses produced in Teesside can be used by the NHS.
The developer is also in the process of applying to regulators to use the vaccine as a booster shot and in children, where vaccination rates are currently much lower than in adults.
Related Topics Novavax Coronavirus vaccines Moderna Pfizer Coronavirus pandemic.